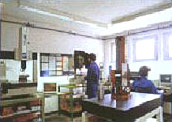 A.D.S. Mastermatic Pty.Ltd. has made its way in a world of advanced technology and years of commitment to research, design and development have brought the A.D.S.Mastermatic Pty.Ltd. products to the forefront in terms of quality and performance.
This coveted position has been reached through the tireless efforts of a carefully selected staff team, who are in continuous training to meet future requirements, and also through investment in the latest and best equipment.
Within the company, people are our top priority, as they represent the way forward to higher levels of technology and quality.

A.D.S. Mastermatic has been awarded the 1999 Australian Achiever Award in the category Melbourne Outdoor Living Supplies & Services. This Award recognises the scrupulous attention to quality exercised both in the factory and on all the externally supplied materials and semi-finished products, through every processing phase.
The number of our customers is growing more and more, as they know that with A.D.S. Mastermatic, they will find craftsman quality, together with personal attention to their specific requirements and excellent service. Last but not least, we wish to underline our commitment to the safety of our staff and to safeguarding the environment; both the subject of the latest and most effective technical innovations.
A.D.S. Mastermatic is constantly growing with new product lines added such as newly released domestic door operators, OLLY E & OLLY M for the convience of disabled people, as well as gate-automation equipment and sliding door openers.